Records Management System
A user-friendly RMS product, purpose-built for the end user with robust features!
We've been in business since 2003, and we still haven't met anyone who can honestly say they like report writing. But the fact is (especially these days), a quality report is not only necessary for securing a conviction, but also for keeping the doors open. With funding and public policy tied to State and Federal reporting programs like NIBRS, now more than ever your agency needs a system that can guide officers through those complicated reporting requirements.
Designed to streamline incident reporting and approvals, take the time out of statistical reporting and analysis, and help your agency connect with other agencies like never before, EFORCE® RMS is the clear choice to help your agency succeed!
Quality incident reports,
done right the FIRST time.
Features & Capabilities
Task Oriented Software for Professionals
NIBRS
EFORCE® RMS is designed and refined by Patrol Cops, Records Clerks, Administrators, etc. who know a thing or two about NIBRS. First off, we know that there's usually only a couple people at an agency that even knows what NIBRS is (let alone the nuances of how to report every type of incident).  We also know that more than likely, that person is shouldering the entire NIBRS reporting load for your agency. There's a better way, with EFORCE® RMS!
Officers classify the incident using terminology they're familiar with, and we set required fields in their report for them. By removing the guess work you create an entire agency of NIBRS experts. Your reports will be validated before you even start the narrative.
And submissions are a breeze too! With a couple of mouse clicks we compile your submission and do a final validation check. If there's errors, we give them to you in plain text with a link to the issue. Then you simply push submit, and it's transmitted directly to the state. Simple to fix, simple to submit.
Incident Reports
You don't have time to do work twice, so EFORCE® takes the information from your CFS in CAD and drops it into RMS so you can start ahead of the game. But we don't stop there; we get smart to save you time.
EFORCE® Incident Reports are laid out so that the report builds on the work you've already done. EFORCE® is built to prevent your agency from entering information more than once.
Report approval and workflow are designed specifically for the working supervisor. Use the approval tools in RMS to provide feedback and efficiently move incident reports around your agency. You can also use the EFORCE® Mobile App to approve narratives and incident reports from anywhere you've got service for a truly convenient way to approve incidents!
Workflow and Interoperability
Nobody knows how reports flow through your agency better than you. We make tools, not policy and procedure. You'll have the flexibility to setup workflow the way you want it. Divisions tie seamlessly with workflow. Create a special division and keep those records on a need-to-know basis.
This even extends outside your agency. EFORCE® puts your agency in the driver's seat to decide what information you share with outside agencies. You can decide what divisions you share with surrounding agencies, and at what level each agency can see your reports.
Want to streamline discovery for your prosecutor's office? Use EFORCE® RMS to share everything they'll need.
Dynamic Forms
Doing work more than once is antiquated. But we know your Court, Lab, DA's Office, etc. isn't going to budge on wanting your information on their form. But your agency is wasting time re-doing work by filling out their forms. It's time to modernize!
EFORCE® RMS allows you to map the data from your incident reports to those forms! Auto-populate them with a click of a button.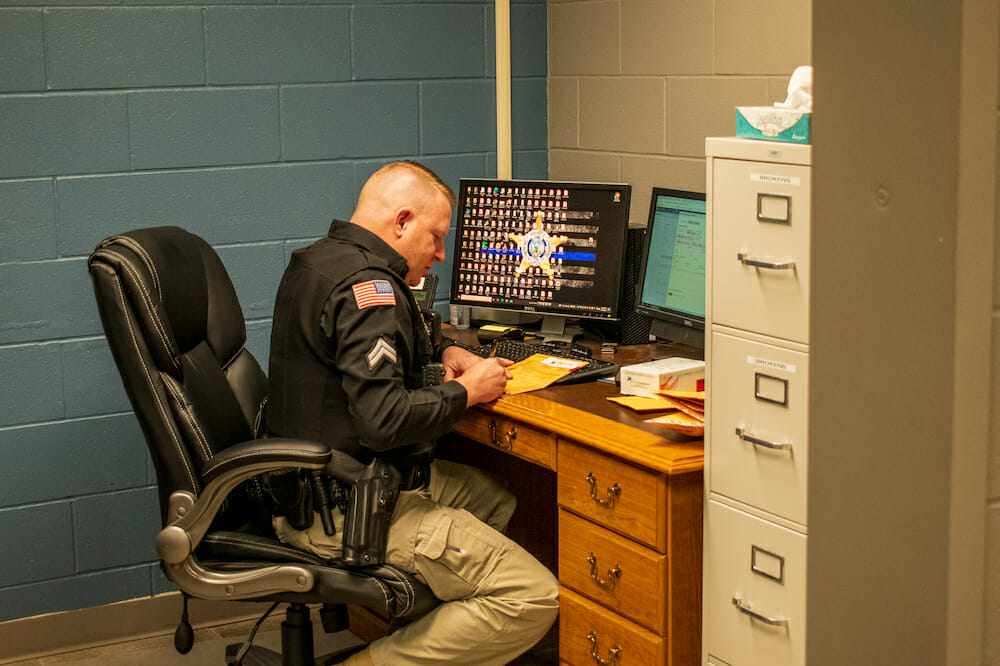 Analytics
Why go through all the trouble to enter information into your system, if you can't get it back out? If you've ever had to put together a complicated statistical report for administration, then you know how frustrating it can be to bounce around your system, looking for each piece. Heaven forbid you had to tabulate stats by hand! We've been there, which is why Data Analytics isn't just something we threw in the software to check a box. Just like everything else we build, we took our time and designed tools that work the way you want them to. It's your system, and you're in control.
EFORCE® RMS has loads of pre-canned statistical reports for the common stuff. Use our Ad Hoc Reporting tool to make your own custom stat sheets. Take it up one more level by automating those reports with the scheduled reporting feature.
Officer Actions Module
Like it or not, your agency is in the spotlight on every interaction you have with the public. And in the absence of data about those encounters, your agency is at the mercy of what someone else wants to say, truthful or not.
The Officer Actions module is designed to supplement our RMS product for agencies that want more data about use of force, person/vehicle searches, and the other high liability activities that your agency engages in. Powerful analytics compare demographics and other relevant information against your Officer's in-field activity to provide unique insights into how your agency engages with the public. Let the data work FOR your agency with EFORCE® Officer Actions.
This module also does double duty for agencies with State mandated Use of Force, Bias and Integrity Reporting requirements. It can be easily interfaced with many State's databases for direct submissions saving your entire agency time in entering, compiling, and submitting this data.
Case Studies
Jacksonville Police Department
Located in East Texas, the Jacksonville Police Department is a spectacular example of modern policing success. Chief Joe Williams and his staff spend more time serving and protecting their community by reducing the amount of time they spend on paperwork.
JPD utilized NIBRS Compliance Grant funds to purchase EFORCE® in 2018, and their administration has worked diligently to shape their system into a tool to maximize their productivity.  Regarding their partnership with EFORCE®, Chief Williams said, "They're committed to our agency's success. They take the time to work with us and ensure that our system works the way we want it to."
Client Testimonials
What Our Clients Say
"EFORCE® provides a capable RMS software with a very reasonable price. We know you'll like the ability to extract data for reports and statistics.

Stika Police Department
"We like the way the reports flow through to final approval. The workflow benefits Records and the Sworn supervisors.

Black Hawk Police Department
"EFORCE® aided our ability to become NIBRS compliant. The software is designed to ensure when your work is done, the reports sent to the FBI NIBRS will be checked prior to submission which prevent kickbacks.

Colfax County Sheriff's Office
"Our agency likes the integrated record management and state and federal reporting abilities. It has a logical flow.

Beauregard Parish Sheriff's Office
"Reports on EFORCE® are an easy process once the system is learned. We also like the new evidence module.

Kimberly Hansen Police Department
Other Products We Offer
Achieve the full potential of EFORCE® RMS
Compliance
Secure and Compliant
EFORCE® Software is the perfect coupling of connectivity and security. Modern technology facilitates the safeguarded availability of our full software suite on any internet connected device. We strictly adhere to the FBI's CJIS Security Policy, applicable state regulations, and industry best practices in the design and implementation of our software solutions.
Find the Perfect Solution
Seeing is believing! We would love to show you why EFORCE® is the clear choice for your agency's software needs.